The Bialystok Cemetery Restoration Fund's mission is to right a wrong. We will bring a measure of peace to the dead and right a wrong inflicted on humanity by the Nazis and Communists. Our work will help restore the dignity of this final, sacred resting place. Finally, we will ensure to the best of our ability that the Nazis' plan to eradicate the history of Jewish life and culture in Bialystok will be thwarted forever. The memory of every grave we restore will live in all of us.
"These souls are remembered.
They will never be forgotten."
---
Meet the Current Officers and Board of Directors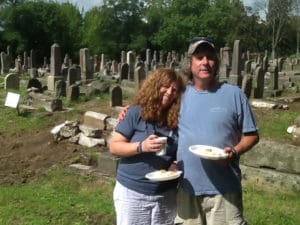 Josh Degen Founding Officer, Chair
Josh is the chair and founder of the Bialystok Cemetery Restoration Project. He has over 30 years of extensive experience operating heavy equipment working on hardscape landscape construction projects specializing in stone setting. Josh got the idea to streamline the resetting of headstones via mechanized equipment in August of 2015 when visiting the Bagnowka Cemetery. Josh is the owner of Earthscape out of Massachusetts USA. He is married to Amy Degen co-founder of the project. Together they have raised two children. When not involved with his business he serves as a Selectmen which is like a mayor for a New England town. He enjoys antiquing with his wife, cooking, skiing, travel, bottle collecting which he finds during his excavation activities at work, socializing with friends and is an avid music enthusiast.
Amy Halpern Degen Founding Officer, Treasurer
Amy has a B.A. from Wheaton College and a M.R.P. from Cornell University. She began teaching religious school in 2000 and in 2006 became a Facing History and Ourselves (FHA0) Holocaust Educator. In August 2015, she attended a seminar with FHAO by the Forum for Dialogue in Poland. After the class, she and her husband drove to Bialystok from Krakow for the first time. Amy's maternal grandfather was born in Sokolka, Poland and moved to Bialystok during the 1920s and left for the United States before 1930. The family he left behind was all murdered during the Holocaust in Bialystok and at Treblinka. While touring Bialystok in 2015, Amy and Josh went to the Bagnowka Cemetery and saw the cemetery restoration work being conducted that day. Josh decided that he could make a difference and lift tombstones quicker using heavy equipment. They started a GOFUNDME campaign and return to the Cemetery yearly to help restore it. Since 2015, Amy and Josh have helped coordinate the U.S. volunteers for the Bialystok Cemetery Restoration project which has lifted and reset over 1000 tombstones. In the Spring 2018, the Bialystok Cemetery Restoration Fund became a non-profit 501c3. Amy is a founding officer and Treasurer of the Bialystok Cemetery Restoration Fund. Amy is the mother of two daughters and devotes her time to volunteering in several organizations. When not working or volunteering, she enjoys knitting, genealogy, antiquing, music, reading and spending time with friends
and family.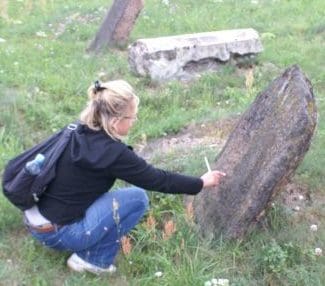 Dr. Heidi Szpek Vice-Chair, Translator, Historian, Interim Webmaster
Heidi Szpek holds a Ph.D. in Hebrew & Semitic Studies from the University of Wisconsin. She also holds two MAs and completed post-graduate studies in related fields from the University of Wisconsin, University of Wisconsin Milwaukee, and The Johns Hopkins University. Heidi treasures her undergraduate and graduate mentorship under renowned Targumist Dr. Bernard Grossfeld z"l (U-Wisconsin-Milwaukee), Hebraist and Archaeologist Dr. Keith Schoville (U-Wisconsin), and renowned Wisdom and Ancient Egyptian scholar Dr. Michael V. Fox (U-Wisconsin). Her doctoral dissertation, directed by Fox, Translation Technique and the Peshitta to Job was published in 1992 by the prestigious Society of Biblical Literature. Heidi also holds dear a brief course of study with Dr. Samuel Iwry (Johns Hopkins) in 1984, who hailed from Bialystok! Little did she know that decades later her life would be entwined with Bialystok. From 1980 to 2001, Heidi taught Biblical Hebrew and a wide-range of courses related to Hebrew Bible, Jewish History, Sacred Literature and Western Traditions at Concordia University Wisconsin, University of Wisconsin-Milwaukee, University of Wisconsin, Pima Community College-Tucson and Shoreline Community College, WA. From 2001-2013, she served as Professor of Religious Studies at Central Washington University in Ellensburg, WA. After promotion to Full Professor and Department Chair, Heidi took early retirement as an Emerita Professor in 2013 to pursue research devoted to Jewish epitaphs and cemetery restoration.
Heidi has researched the Bagnowka epitaphs since 2004 and since 2010 assisted such organizations as Centrum Edukacji Obywatelskiej Polska-Izrael w Bialymstoku and Aktion Suchnezeichen Friendensdienste in their restoration efforts. In 2015, by chance she met future BCRF Board Members Amy Halpern Degen and Josh Degen on cemetery and learned of their vision for advancing this cemetery's restoration. Since 2016, Heidi has served as Translator and Historian for the BCRP and in 2020 joined the Board of Directors. Onsite she assists in proper placement of tombstones that respects the nature of this cemetery. Her most significant role is that of 'Keeper of the Names', reflecting her duty of documenting and disseminating the vital details on Bagnowka's tombstone. The database with these vital details, her publications on Bagnowka and Jewish epitaphs, including her book, Bagnowka: A Modern Jewish Cemetery on the Russian Pale (iUniverse, 2017), can be found on her website www.jewish.epitaphs.org Her essay, "An Unintentional Keeper of the Names – Jewish Epitaphs" explores her journey and this role. Heidi enjoys the freedom of travel with her husband, Frank Idzikowski, with whom she raised two children, and who frequently serves as both her and the BCRP's photographer. She is an aspiring watercolor artist and proud grandmother.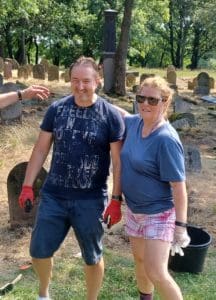 Dr. Andrzej Rusewicz Bialystok Site Coordinator
Andrzej is a Białystok native. After graduating from high school (III LO) he was enrolled at the Wrocław University of Science and Technology as a mathematics major. In 1984, he emigrated to the US where he continued his studies at the University of Minnesota. After earning a Ph.D. degree in mathematics in 1991, he taught mathematics and computer science at Hampden-Sydney College in Virginia.
In 2000, Andrzej left Hampden-Sydney and moved with his wife, Iwona, and daughter, Marta, to the Bay Area, California, to work as a game developer. Over the next seven years Andrzej worked on video games, most notably the Sims 2 (Maxis / Electronic Arts).
After 23 years living in the US, Andrzej and his family moved back to Europe and eventually in 2015 Andrzej and his wife moved back to Białystok.
Over this time, Andrzej worked as a technical manager for Microsoft, Google, and several Polish software companies. He is currently an owner of BlueRider.Software.
In 2017, Andrzej met Tomasz Wiśniewski – a renowned documentary filmmaker and expert on Jewish history of Białystok and the Podlasie region. Together they founded the Association of the Museum of Bialystok Jews. The Association's website jewishbialystok.pl and YouTube channel Bagnowka house a wealth of photos, videos, and documents on Jewish heritage.
Andrzej met Amy Degen in 2019, when she was visiting Białystok with other members of the BCRF for their annual Bagnówka summercamp. When Amy, Josh, Heidi, and Frank came back to Białystok in 2022, after two years absence due to COVID-19, Andrzej and his granddaughter, Mila, joined them to take active part in the Bagnówka restoration project. He helped to recover 120 matzevot from the Rabbinic Cemetery and move them to Bagnówka.
In the Fall of 2022 Andrzej became the newest member of the BCRF Board of Directors.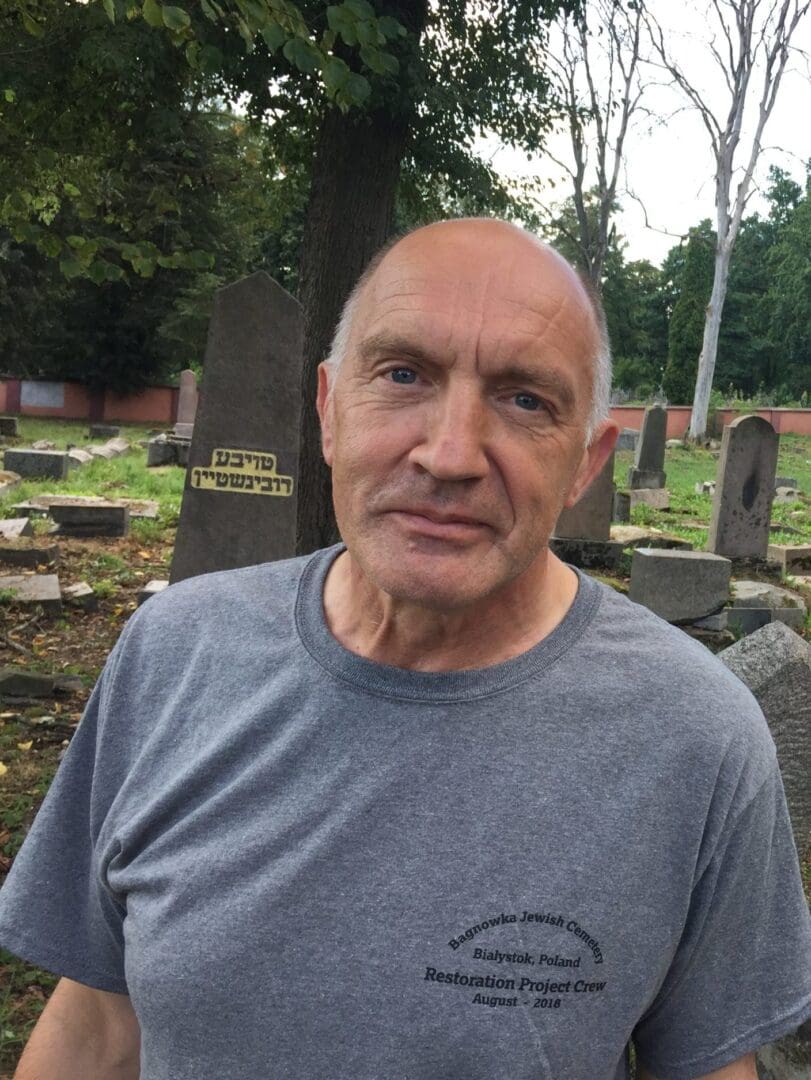 Dr. Andrzej Końdej Summer Bialystok Site Coordinator
Andrzej holds a PhD in economics at the University in Bialystok, Poland and is currently a scientist and lecturer at The Institute of Management of University in Bialystok specializing in trade and strategic development since 2017. In addition to his academic accomplishments, Andrzej runs a private business focusing on consultancy, market research and training.
His engagement at the Jewish cemetery in Bialystok originated in August 2012, when he was solicited for help on the restoration activities at Bagnowka by his friend Waldemar Mierzejewski. The few voluntary hours he spent that year in 2012, has since transformed into an annual voluntary engagement. Andrzej has also taken over the role of local coordinator within the Bialystok Cemetery Restoration Project after his dear friend Waldemar unfortunately became ill in 2018, and subsequently passed in 2020. He continues to be a valued and integral part of the project team and is a wonderful reminder of Waldemar's support and kind spirit.
His connection can be traced back before WW II, when his ancestors lived at Elektryczna Street in Bialystok – among a predominant majority of Jewish households. Friendly relationships with these neighbors continued with the rescue of a Jewish boy, who was left orphaned, after his parents were killed in a bomb attack. He treats his voluntary activity at the cemetery renovation as a moral commitment for the good of the community, which faced the Holocaust, one of the most tragic incidents in world history. Moreover, his absolute life principle is not to be impervious to human damage and any wrongdoing, and he remains unwilling to leave any friend behind.
Andrzej is the proud father of Tom (a training coach in Warsaw) and Magdalena (a research manager in London, UK) and a loving grandfather to his grandchildren Boris, Lena, Michael and Robert. As a born athlete, in his spare time he enjoys tennis, jogging and other recreational activities. He also loves US country music and has plans to visit Nashville one day.
Past Officers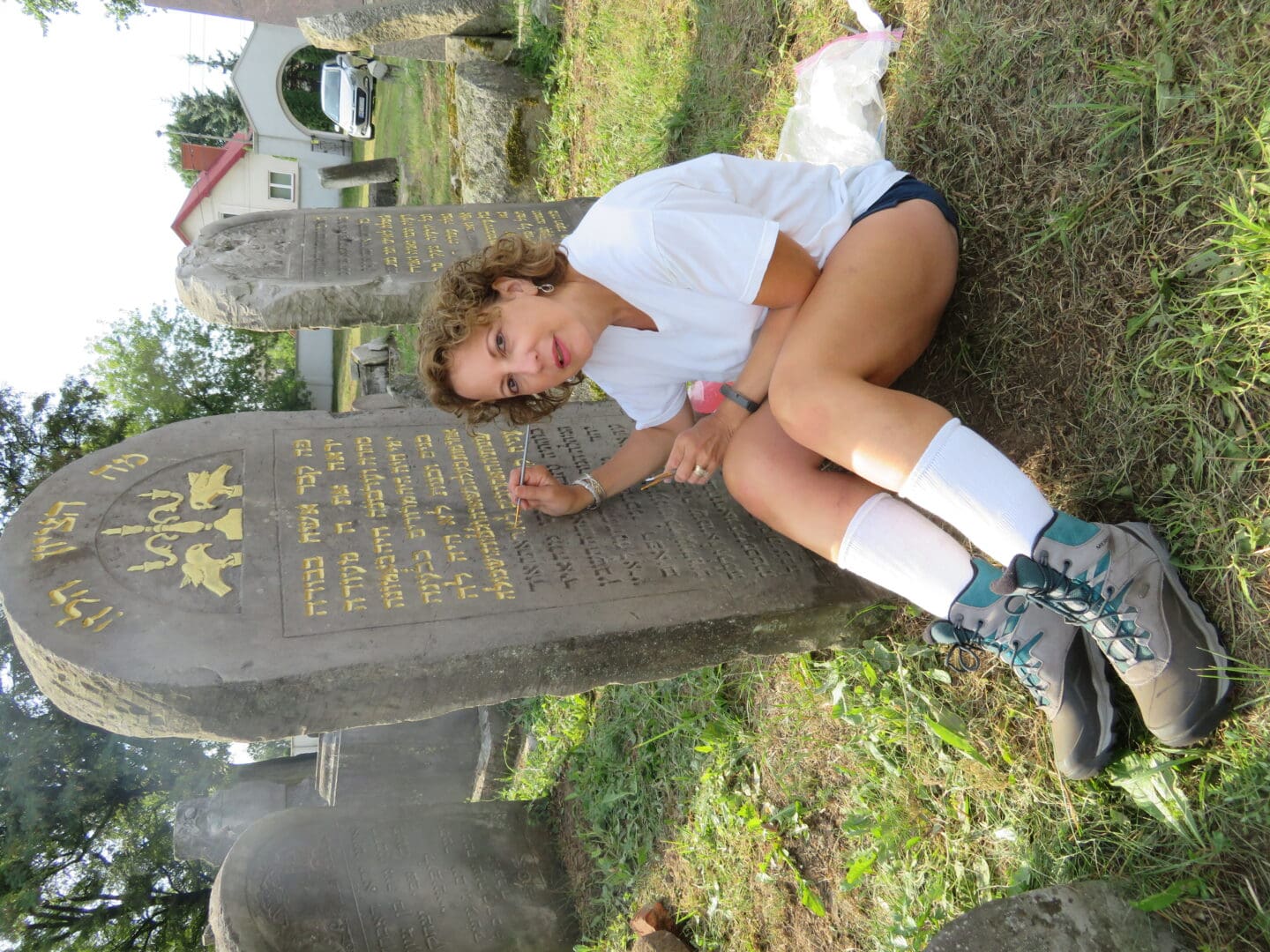 Paula H. Tye-Flagler Clerk Founding Officer, Clerk 2016-2023
Paula is a graduate of the University of Massachusetts-Amherst, where she earned a Bachelor's degree in Education with a specialization in severe and profound special education. She holds a Masters of Education degree from Rivier University in learning disabilities and in addition to over 45 credit hours in the area of professional practice in elementary education. Paula has over 35 years of experience as an early childhood educator and specializes in curriculum development and family engagement. "Miss Paula" as she is affectionately known by both student and parents, has devoted her career to providing the building blocks of early learning to thousands of students during her tenure with the Lowell Public Schools in Lowell, Massachusetts. A recent retiree from full time teaching, Paula enjoys consulting in the areas of early readiness, language development, testing and assessment, family engagement, and curriculum development for pre learners and their families. The mother of two grown daughters, Paula enjoys spending time with family, crocheting, reading, , music and art travel and active sports. In addition, she taught Sunday School at Temple Emanuel in Andover. She is a founding officer of the Bialystok Cemetery Restoration Fund and continues her devoted work to Right-A-Wrong at the Jewish cemetery in Bialystok, Poland with annual visits.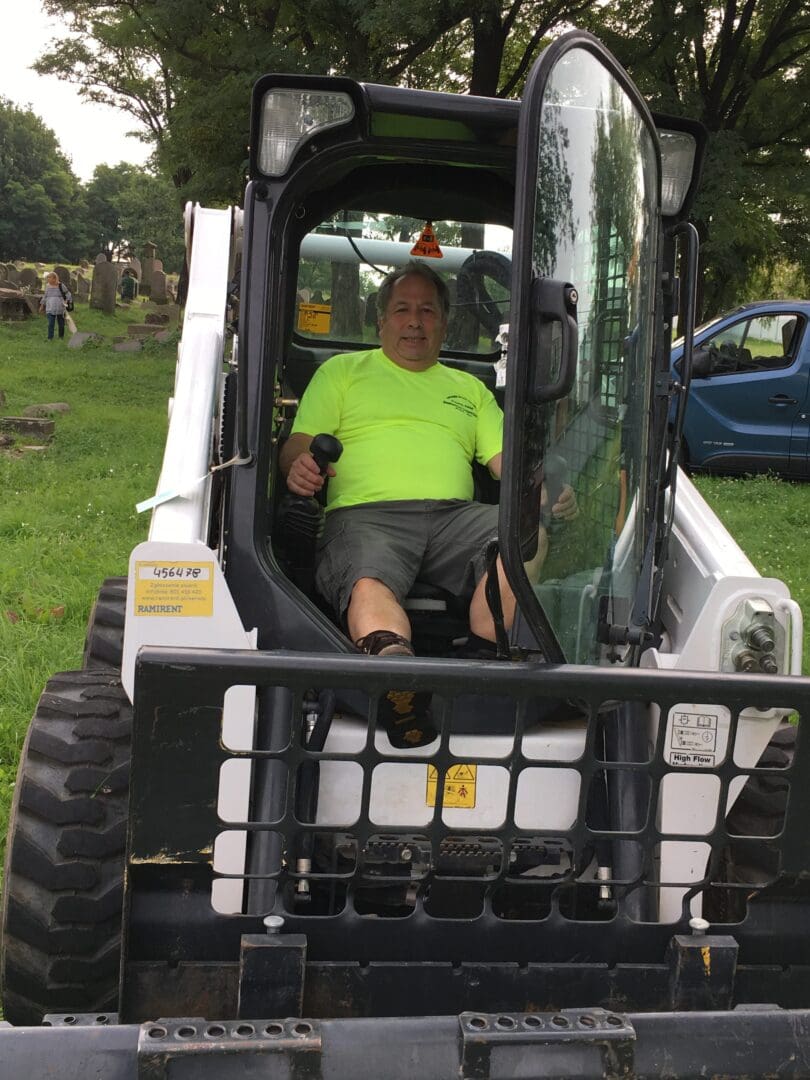 Howard W. Flagler Founding Officer, Vice-Chair 2016-2023
Howard is a graduate of the University of Massachusetts – Lowell where he earned a Bachelor's degree in Sociology and a Masters of Social Work degree from the Wurzweiler School of Social Work at Yeshiva University of New York, NY. Howard is the recipient of the coveted Louis A. Kraft International Award for his distinguished professional work in the area of Jewish Communal Service with specific recognition for his ground breaking work addressing "Latch Key" children and families as Director of Children and Family Services at the North Shore JCC in Marblehead, Massachusetts. As a professional fundraiser for the Merrimack Valley Jewish Federation, Howard achieved personal and professional recognition for the successful campaign to raise over 1.2 million dollars to rescue and resettle Russian Jewish emigres' during the United Jewish Appeal's "Operation Exdous" and again working to rescue and resettle Ethopian Jews in "Operation Solomon." Howard is a licensed Nursing Home Administrator in the Commonwealth of Massachusetts and is currently the Vice President of Sales and Marketing for Spector Textile Products, a leading US based manufacturer serving the industrial linen and laundry trades. A past president of the Lowell Hebrew Community Center – Temple Beth El and the founding President of Congregation Beth Israel of the Merrimack Valley, he also serves on the Board of Directors of the Temple Beth El Cemetery Corporation. The father of two grown daughters Howie enjoys restoring antique automobiles, travel, cooking and woodworking. He is a founding officer of the Bialystok Cemetery Restoration Fund and continues his devoted work to Right-A-Wrong at the Jewish cemetery in Bialystok, Poland with annual visits.