By: Howie Flagler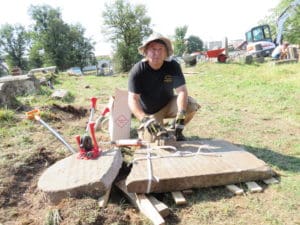 Beginning in 2016, my wife Paula and I, have spent our summer vacations in Bialystok, Poland engaged in the work of restoration and preservation of the city's only remaining Jewish cemetery. Almost all of the volunteers who participate in the Bialystok Cemetery Restoration Project describe feeling that they were "called to take action," committed to try to "Right a Wrong" that happened at this sacred space.
What's my calling?
My father, Jack Flagler, of blessed memory, taught me many lessons about communal responsibility – the idea that we are not only responsible for ourselves (but equally responsible for the well-being of others), about our obligation to give selflessly, and for Tikkun Olam – acting to repair the world.
My father was a deeply religious man, and as a businessman and community leader, he was often called to attend funerals of friends, associates and strangers. He made sure that the grieving family was comforted and that the deceased received a dignified and proper burial following Jewish laws and customs. As a boy, I often accompanied him on his acts of mitzvot (good deeds). I learned that these acts of charity can never be acknowledged or appreciated by the deceased and in doing so, one could never expect a thank you. Instead, you'd have the privilege of performing one of the highest forms of mitzvot as an intangible reward.
From those childhood lessons, I was fully aware that my toils at the Bagnowka Cemetery, in the August heat, would likely never be acknowledged. The dead, of course, cannot speak. And I truly never believed that our volunteer work would ever be acknowledged by a family member either. Given the gloomy wartime history of Bialystok, what were the odds there were living relatives of those buried under the 1000 or so monuments our collective efforts have rededicated from desecration?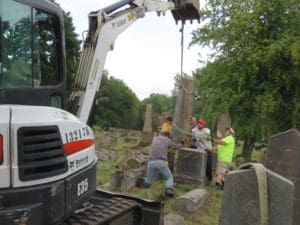 That was until August 2018, when we met several visitors from around the world who had learned of our restoration and preservation efforts at this cemetery. Most were in awe of the number of monuments we have raised from the ground to proudly stand high, pointing to the blue sky once more. Others were touched by the meticulous painting and restoration techniques done on the gravestones, many dating back to the turn of the last century.
During our work, we met three people who showed up unannounced looking for burial plots of deceased relatives: Ms. B from England; Mr. T from Canada, and Mrs. S from New York. Remarkably, due to the work of linguist and historian Heidi Szpek, Professor Emerita of Religious Studies at Central Washington University, we were successfully able to locate and reconnect these visitors with the graves of beloved ancestors.
Interesting enough, Ms B's family stone was lifted and restored during the first year of our project in 2016, Mr. T's relative's monument was rededicated the second year of our project in 2017, and Mrs. S's family stone was restored just the day before her visit!
We witnessed the miracle of reconnecting loved ones with their ancestors, connecting generation to generation. Through our continued tzedakah (charity) work, we hope to see these miracles repeat for many more years to come. As you can imagine, all of the volunteers were overcome with emotion as each one of these visitors expressed their heartfelt appreciation for making the impossible come true.
This was our unexpected thank you. This is why we came to Poland and why we will keep coming back.
(For information on volunteering with the Bialystok Cemetery Restoration Project, contact us via email at BialystokCemeteryRestoration@gmail.com)