By: Paula Flagler
As a retired school teacher, I know I've had a significant impact on others' lives, but I never thought I would have the opportunity to make a deep humanitarian difference in the world.
Never in my wildest dreams, did I think I would be part of this wonderful group trying to "Right–a-Wrong." Each day I wake up, I tell myself it is going to be a great day. The sky is blue, I have my work to keep me busy, I am blessed to have friends and family that love and care about me and a roof over my head.
In my life, I have encountered a lot of individuals who do not know how they will pay their bills, where their next meal will come from, or how they will be able to find work with no access to transportation. Yet, somehow they seem to put a smile on their face and continue on with their day hoping they will see a clear path or encounter a chance meeting with someone who could help them – someone who could open their eyes to new ideas and possibilities.
This is exactly what happened to me when I was asked by a close friend if I would be interested in joining a very special project. I feel fortunate to be helping restore the last surviving Jewish cemetery in Bialystok, Poland, that was initially destroyed during the Holocaust in 1942.
In 2016, when I first arrived in Bialystok, I had no idea of the magnitude of what I was about to undertake. How I would feel when I reached my destination? But like those positive-thinking people I encounter every day, I thought I could also put a smile on my face and forge ahead.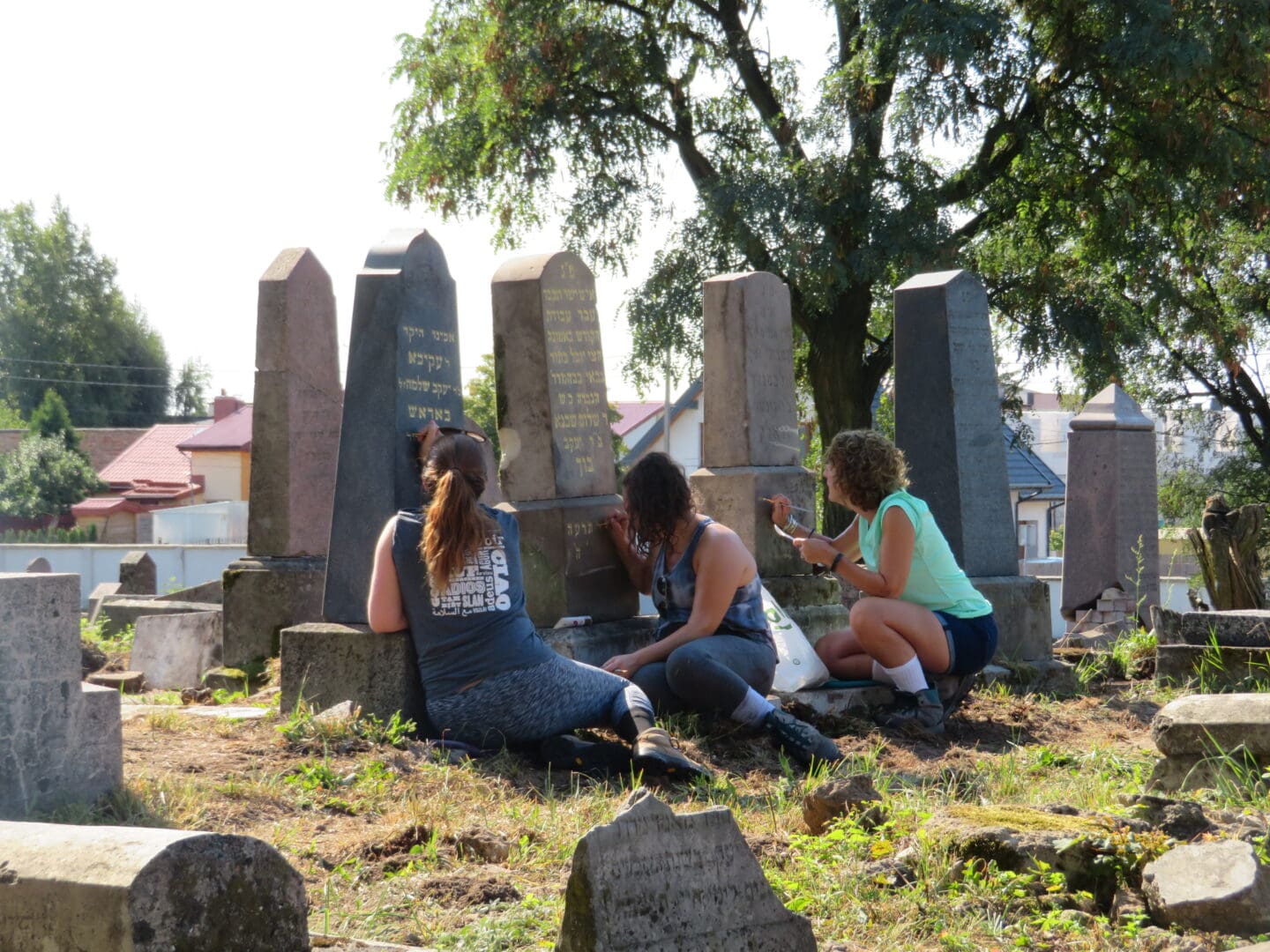 When I first entered the gates of the Bagnowka Wschodnia Street Cemetery, my eyes opened wide with horror. I saw an endless field of ravaged, desecrated Jewish graves, which came as a shock even though I kind of knew what to expect. You see, anytime I have gone to visit a place of eternal rest it has always been manicured, had flowers growing and people wandering the grounds to say prayers over their loved ones.
The souls who are buried at Bagnowka had no idea that their once tranquil internment would one day be destroyed by hateful, anti-Semitic people who had no regard for humanity. They had no idea that their memorial headstones placed by family or loving friends would one day be stolen and used to build barn foundations, public fountains, paving sidewalks or even used as target practice.
Those who destroyed the Bagnowka Cemetery wanted to wipe out all memories of the Jewish population and destroy their final place of dignity. Bialystok once thrived with a strong Jewish population (50 percent of the city right before World War II) until they were all murdered. There used to be six hallowed Jewish burial grounds in this beautiful, thriving city. Now there is just one: the Bagnowka Wschodnia Street Cemetery.
As I walked those burial grounds for the first time, I found myself crying for all the forgotten souls left there unattended. I said the Kaddish and sang Hebrew melodies and vowed I would make a difference. I would help repair these monuments that had once been erected to tell the stories of all those buried in this holy place.
Now, every time a gravestone gets washed, cleaned and painted, my eyes continue to open wider, but it is no longer with sadness. They are opened in a renewed joy of making this special place whole again.
I have found that in teaching our daughters about the world we inhabit, it is up to all of us to do our part. We all need to be able to have "Tikkun Olam," the commitment to "repair the world" in our lives. In my years as a teacher, mentor and human being, I knew that helping others has been my lifelong passion. I believe that helping others is one of the greatest gifts you can give.
Being part of a wonderful group of people who can take pride in such a humanitarian effort has made me open my eyes in a way I had never known. All it takes is an idea and the belief that we are all part of a greater picture. If only we could open our eyes every day and see that we can all make a difference.
(The Bialystok Cemetery Restoration Project is made up of volunteers of all ages, religions, nationalities and ethnic background. To learn more on what motivates them to travel across the world and grab a shovel, please visit our "Why Volunteer?" page.)