The Jewish settlement in the Bialystok, Poland dates back to about 1658. Bialystok grew to be a successful and predominantly Jewish community. However, anti-Semitism began to surface even before the Nazi insurgence in Poland. In 1906, the Czarists massacred many of Bialystok's Jews. A black obelisk monument to the victims of those pogroms stands prominently in the center of Bagnowka cemetery. After the pogroms, Bialystok was once again a vibrant Jewish community.
World War II changed Bialystok forever. Nazis invaded Poland in 1939 decimating the population of 50,000 Jews, sending thousands to their deaths to Treblinka Extermination camp, murdering them in the streets of the enforced Jewish Ghetto, and killing more than 2,000 in a single day in the horrific Great Synagogue Fire of June 27, 1941.
Among those killed in the Great Synagogue Fire were family members of Amy Degen. The tragedy inspired Amy and husband Josh Degen to visit Bialystok where they discovered that the devastating destruction of the Jewish cemetery.
From June to September 1943, the Bialystok Ghetto was liquidated. The mortar and brick that bore physical witness to Bialystok's vibrant Jewish community was likewise annihilated. Bagnowka Cemetery, located in a rural area about 4 km from the city center, was spared the intensity of this hate and devastation. While documentation suggests that some damage may have occurred during the German occupation, the brunt of Bagnowka's devastation occurred slowly during the post-War years. The implications for Bagnowka's devastation are shocking – the hatred that began under the Nazis and the willingness to act upon such hatred did not cease with the Nazis' defeat, it continued under Polish Communism.
---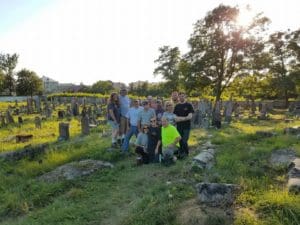 Project Accomplishments
During Amy and Josh Degen's first visit to Bagnowka in 2015, Josh decided to use his 35 years of experience working with stone, stonescapes, and heavy equipment to begin restoration. Although an earlier restoration effort had been undertaken, those workers only had hand equipment and a tripod pulley system available to lift the stones, some of which weigh over 4,000 pounds. The prior project team was able to lift and reset only 2 or 3 of these headstones per day.
During trips to Bagnowka in August of 2016 and 2017, heavy equipment was rented locally for the job. With the help of 6 laborers, we strapped, lifted, and otherwise re-assembled the monuments and obelisks. By the end of the week, working 6 consecutive 10 hour days, we reset, restored, and re-dedicated 301 monuments during 2016 and another 349 in the summer of 2017, providing a measure of dignity and peace to the souls whose earthly remains were interred at Bagnowka.
Considering that the Bagnowka Cemetery in Bialystok originally contained approximately 30,000-35,000 graves, our work was a humble but significant and tangible effort.
---
Judaic Linguistic & Cultural Expert and International Support
Our work could not have been successful without the important preparatory work by others. In 2009, a team of local Poles, working with others from all over Europe began restoring this cemetery. The initial restoration idea came from the last living Bialystok Jew, Lucy Lisowska.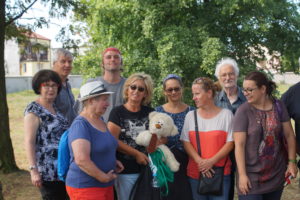 Lucy engaged a renowned Judaic academic in the US, Heidi Szpek, PhD, professor emeritus from Central Washington State University. Heidi translated the Hebrew, Polish, and Russian inscriptions, provided critical cultural context and linguistic skills needed to understand grave orientation and placement, and oversaw the proper placement of stones or monuments onto the correct grave.
We are grateful to every person who has donated to our efforts to right a wrong, especially the entire Bialystok cemetery restoration crew, which continues to grow!
---
Burial Registry
Due to the diligent work of Dr. Szpek, a database of vital details from Bagnowka Jewish Cemetery in Bialystok, present-day Poland was started in 2007. Initially, as a means to organize the biblical texts recorded in inscriptions for academic research, however, it has also become a way for family to connect with ancestors. The original database eventually grew from 1200 to about 1800 entries, with about 1200 surnames and an additional 600 with other data. The current registry preserves nearly 2300 surnames with related data (given name, father's name, most often date of death); and an additional 900 entries without surnames but recording given name, father's name and related data. That's over 3000 valuable entries. The registry will be rechecked and updated each summer until restoration is complete.
This updated database is not yet available on this site, but can be accessed from her website: www.jewishepitaphs.org/bagnowka-jewish-cemetery-bur…/
Additional Acknowledgments: Photographs 2006-10, by Dr. Tomek Wisniewski with inscriptions translated by Dr. Szpek (2006-09) and Sara Mages (2010). Photographs 2007-Present by Frank Idzikowski and Heidi M. Szpek. Collaborative restoration efforts 2012-Present Aktion Suchnezeichen Friedendienste www.facebook.com/asf.de/ , coordinated by Lucy Lisowska, assisted by Dr. Andreas Kahrs (Berlin) and Dr. Szpek.
---
These souls are remembered. They will never be forgotten.