The Bialystok Cemetery Restoration Fund's mission is to right a wrong. We will bring a measure of peace to the dead and right a wrong inflicted on humanity by the Nazis. Our work will help restore the dignity of this final, sacred resting place. Finally, we will ensure to the best of our ability that the Nazis' plan to eradicate the history of Jewish life and culture in Bialystok will be thwarted, forever. The memory of every grave we restore will live in all of us.
These souls are remembered. They will never be forgotten.
---
Meet the Officers and Board of Directors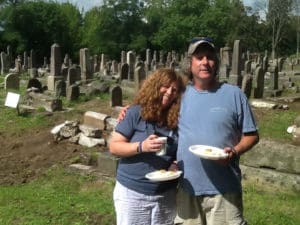 Josh Degen and Amy Degen
Josh is the chairman and founder of the Bialystok Cemetery Restoration Project. He has over 30 years of extensive experience operating heavy equipment working on hardscape landscape construction projects specializing in stone setting. Josh got the idea to streamline the resetting of headstones via mechanized equipment in August of 2015 when visiting the Bagnowka Cemetery. Josh is the owner of Earthscape out of Massachusetts USA. He is married to Amy Degen co-founder of the project. Together they have raised two children. When not involved with his business he serves as a Selectmen which is like a mayor for a New England town. He enjoys antiquing with his wife, cooking, skiing, travel, bottle collecting which he finds during his excavation activities at work, socializing with friends and is an avid music enthusiast.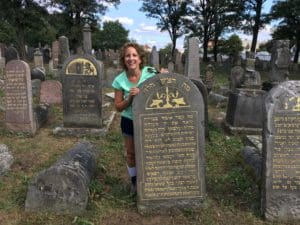 Paula H. Tye-Flagler
Paula is a graduate of the University of Massachusetts-Amherst, where she earned a Bachelor's degree in Education with a specialization in severe and profound special education. She holds a Masters of Education degree from Rivier University in learning disabilities and in addition to over 45 credit hours in the area of professional practice in elementary education. Paula has over 35 years of experience as an early childhood educator and specializes in curriculum development and family engagement. "Miss Paula" as she is affectionately known by both student and parents, has devoted her career to providing the building blocks of early learning to thousands of students during her tenure with the Lowell Public Schools in Lowell, Massachusetts. A recent retiree from full time teaching, Paula enjoys consulting in the areas of early readiness, language development, testing and assessment, family engagement, and curriculum development for pre learners and their families. The mother of two grown daughters, Paula enjoys spending time with family, crocheting, reading, , music and art travel and active sports. In addition, she taught Sunday School at Temple Emanuel in Andover. She is a founding officer of the Bialystok Cemetery Restoration Fund and continues her devoted work to Right-A-Wrong at the Jewish cemetery in Bialystok, Poland with annual visits.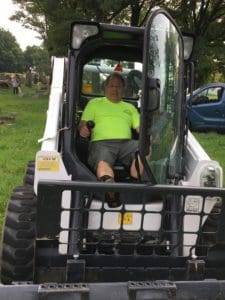 Howard William Flagler
Howard is a graduate of the University of Massachusetts – Lowell where he earned a Bachelor's degree in Sociology and a Masters of Social Work degree from the Wurzweiler School of Social Work at Yeshiva University of New York, NY. Howard is the recipient of the coveted Louis A. Kraft International Award for his distinguished professional work in the area of Jewish Communal Service with specific recognition for his ground breaking work addressing "Latch Key" children and families as Director of Children and Family Services at the North Shore JCC in Marblehead, Massachusetts. As a professional fundraiser for the Merrimack Valley Jewish Federation, Howard achieved personal and professional recognition for the successful campaign to raise over 1.2 million dollars to rescue and resettle Russian Jewish emigres' during the United Jewish Appeal's "Operation Exdous" and again working to rescue and resettle Ethopian Jews in "Operation Solomon." Howard is a licensed Nursing Home Administrator in the Commonwealth of Massachusetts and is currently the Vice President of Sales and Marketing for Spector Textile Products, a leading US based manufacturer serving the industrial linen and laundry trades. A past president of the Lowell Hebrew Community Center – Temple Beth El and the founding President of Congregation Beth Israel of the Merrimack Valley, he also serves on the Board of Directors of the Temple Beth El Cemetery Corporation. The father of two grown daughters Howie enjoys restoring antique automobiles, travel, cooking and woodworking. He is a founding officer of the Bialystok Cemetery Restoration Fund and continues his devoted work to Right-A-Wrong at the Jewish cemetery in Bialystok, Poland with annual visits.